Jack McGehee Named Champion of Justice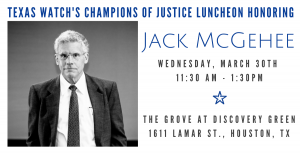 Texas Watch, a non-partisan citizen advocacy organization dedicated to ensuring that insurance companies and other corporations are accountable to their customers, has named Jack McGehee as their Champion of Justice.
Since 1998, Texas Watch has fought for Texas families and consumers by advocating for laws that:
Ensure accountability through our courts and guarantee our constitutional right to Trial by Jury
Improve safety for workers, patients, and communities
Reform the insurance marketplace to ensure meaningful coverage at a fair price.
Texas Watch thrives on community engagement, providing a platform for Texans to preserve and strengthen their constitutional rights and protections.
On Wednesday, March 30th from 11:30am – 1:30pm, Texas Watch will be holding a luncheon at The Grove at Discovery Green to honor Jack as their Champion of Justice. There are a limited number of individual tickets left so sign up quickly i9f you don't want to miss out on this opportunity to honor a legend in the fight for safety, accountability, and justice.
A comment from Texas Watch:
"Jack does not back down from a fight. He tirelessly works to make things right for Houstonians and Texans when injustice persists. We at Texas Watch are inspired by heroes like Jack who are not afraid of giants.
Jack has dedicated his life to being a voice for the voiceless, ensuring victims of medical malpractice are heard. His work fighting against injustice inspires us at Texas Watch. We, too, punch above our weight, taking on the corporate and insurance lobby. We look up to people like Jack to lead the way for safety, accountability, and justice. And we can't wait to celebrate with him next week at The Grove!
For the safety of all guests, we will be observing these COVID-19 protocols and asking that all attendees present proof of vaccination or a negative COVID-19 test taken within 72 hours. We will have all windows and doors open to maximize airflow in the room and are limiting the number of attendees per table to help preserve spacing. Your safety is our top priority.
You don't want to miss this highly-anticipated luncheon celebrating the accomplishments of Jack McGehee. This will be our first in-person event in three years, and we hope to see you there."
If you have any questions about this event please don't hesitate to reach out. Thanks!